So, it has been very difficult to write my blog post for today. Usually something just comes to me out of the blue, when I'm lying in bed, showering, or sitting in front of my computer or something sparks my interest like a quote on a social network, reading the Bible or another book or watching TV. I wrote most of my last post at 3am one night, weeks in advance because I just couldn't sleep, but this time I got NOTHING. NOTHING! I've been wondering why for the past few days.
Until it just hit me…I've been the problem. I've been too busy focusing on what I have wanted to do for the past few weeks that I haven't taken the time or energy to really reach for God. I've been so busy with work, hanging out with friends, paying bills, attending church events, making birthday plans, and watching Scandal that I haven't opened myself up to hear him. I've been what I think of as "a surface Christian." I have felt God's connection and his warmth, I've gone to church, I've prayed and I've worshipped him, but I haven't allowed myself to be fully open and enveloped with him.
Recently, one friend of mine in particular has been frustrating me with what I perceive to be selfishness and indifference, while when I look at it I have been doing the same exact thing just to a different person— A more important person! I haven't been vigilant and focused. Instead I've been indifferent in seeking after God. But, I think that now God is questioning my allegiance to him. He's watching to see whether I am going to call him only when I'm in church or in need of something from him, or if I am going to initiate regular conversation as I should.
Hebrews 13:15 says, "Therefore, let us offer through Jesus a continual sacrifice of praise to God, proclaiming our allegiance to his name." This verse is key! How often do we closely examine our allegiances? Allegiance is shown not only by profession, but by action. Professing that you love God means nothing if you're just going through the motions, missing out on the action that love truly requires in order to be real.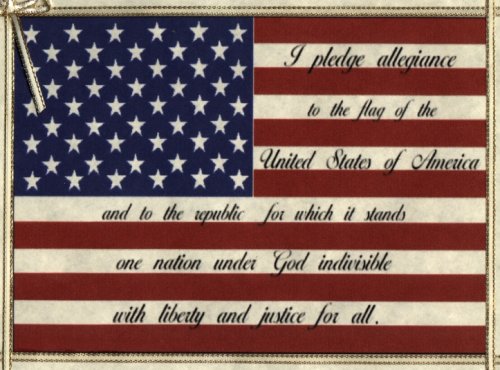 You may have said the pledge of allegiance every day in elementary school, but at that point it was repetition. It was something you were taught that you became accustomed to quoting. You didn't fully understand the power behind the words or what it meant to pledge to a flag that your forefathers fought and many died for through economic, racial, and social oppression. Continual sacrifice is the action that acknowledges the fight. It is easy to praise someone when it is convenient for you, but it's very difficult to praise them continually, when you feel like it AND when you don't. Continual sacrifice is our offering to Jesus Christ who gave everything for us to have an opportunity to live lives free from sin and one day meet Him in heaven. God is pushing us towards a continual attitude.
Lastly, God reminded me that my allegiance to him will prove to be beneficial. Psalm 16: 8 says, "I have set the Lord always before me. Because he is at my right hand, I will not be shaken." When you make God your right hand man, continually setting him before everything else, then he will have your back to the point where nothing can shake you, not even that annoying, selfish friend!
By: Jael