Usually, when you know that you are a part of something you act differently. If you know that you are in a relationship with someone of the opposite sex you act differently than you would if you were single. You probably stop telling people you're single, flirting with members of the opposite sex, staying out late (especially without notifying your boyfriend/girlfriend), etc.
But most of all, your thinking is different. You are mindful of your significant other, resulting in actions which show that you are thinking of them. If you are planning to go shopping or to a place that you know they will like, you will probably invite them to attend with you, or at the very least, buy them something to show that they were on your mind. You no longer think of yourself as being alone, but as a part of a group, where you no longer represent just yourself, but you belong to something larger than yourself.
4
But you belong to God, my dear children. You have already won a victory over those people, because the Spirit who lives in you is greater than the spirit who lives in the world. 5 Those people belong to this world, so they speak from the world's viewpoint, and the world listens to them. 6 But we belong to God, and those who know God listen to us. If they do not belong to God, they do not listen to us. That is how we know if someone has the Spirit of truth or the spirit of deception. (1 John 4:4-6)
1 John 4:4-6 shows us that you reflect what you belong to. People "of the world," those who don't believe in God, speak in a worldly manner, and worldly people relate to them. They tell stories to their worldly friends about how cool it was when they got high last night, or when they punched their friend in the face, or they cursed out their teacher, and they relish in these stories.
As Christians, we belong to God (1 Corinthians 6:20 says "for God bought you with a high price. So you must honor God with your body"). So we relish in stories about how we had a great time at church last night or how we prayed with a friend, and our godly friends listen.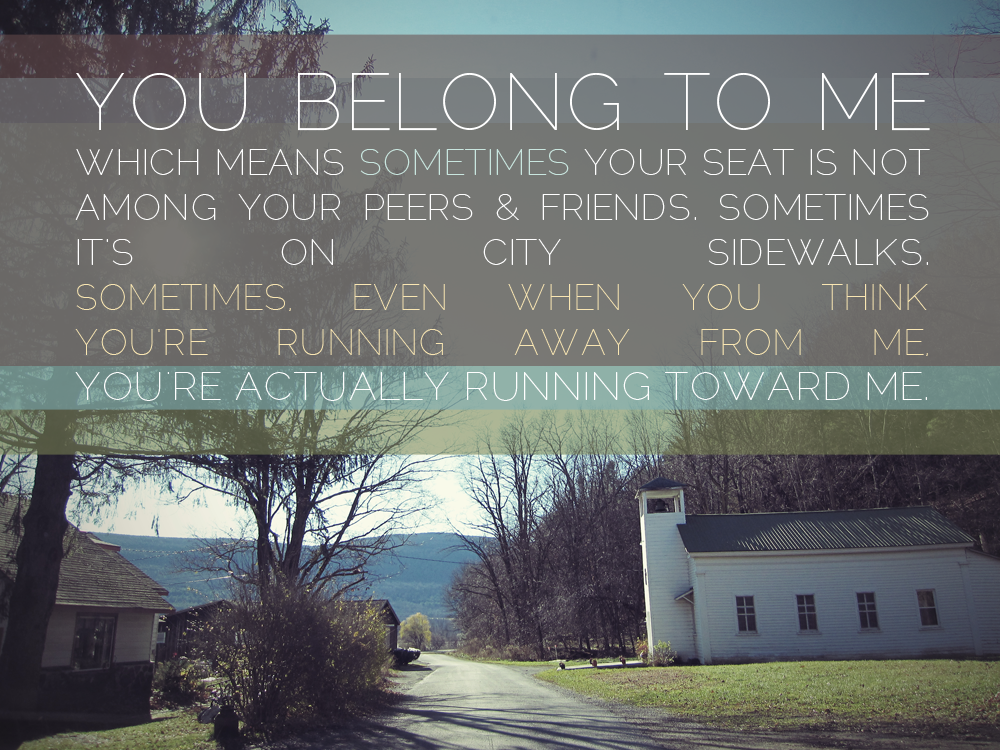 We belong to God and he bought us with a price, so basically we should be reflections of him in all that we do. Since belonging is mostly a mindset, we should embrace the notion that God's spirit within us is greater that the spirit that lives in the world. Once you've embraced this mindset, your actions will begin to follow your thoughts, causing you to walk more righteously and confidently in knowing that you are wanted and accepted by the perfect one (God) despite your imperfections. Also, your actions toward God will begin to express the fact that he is on your mind, resulting in more prayer (or conversation) with Him, more reading of his word, and more instances in which we tell others about him (just as you would tell all your friends about your new boyfriend/girlfriend).
Challenge: Look at your face in the mirror every morning and tell yourself "I BELONG TO GOD." We have to get it in our minds that we belong to him and such are his reflection.
"
For the Lord your God is a merciful God; he will not abandon you or destroy you or forget the solemn covenant he made with your ancestors." Deuteronomy 4:31